Some highlights
All rules managed in menu >WooCommerce>Pricing rules.
All discounts support negative values and you can increase prices too.
This plugin doesn't support any separate modes, so you should combine different sections to build necessary rules.
Important note:  "Product filters" and "Cart conditions" are totally different things!
Both section support custom taxonomies and product collections.
Let's review sections in order as they work inside the rule.
---
Limits
Currently we support only following limits :
"Max usage" – how many times the rule can be used (by all customers).
"Max usage per customer" – how many times the rule can be used by registered customer.
If limit is already exceed – this rule will be ignored.
Cart conditions
They are calculated based on current context (shop date or time, cart items, applied coupons, shipping destination, current customer,  purchase history and etc).
If conditions fail – this rule will be ignored too.
Product filters
When you use product discount/bulk table or role-base discount – we must know which items must be modified. So each line in filter is SEPARATE item.
If this section is undefined – we use filter "Any 1 product".
If you want to apply many filters to same line – use product collections
If you add many lines to product filter – you will create product bundle (see sample rule below)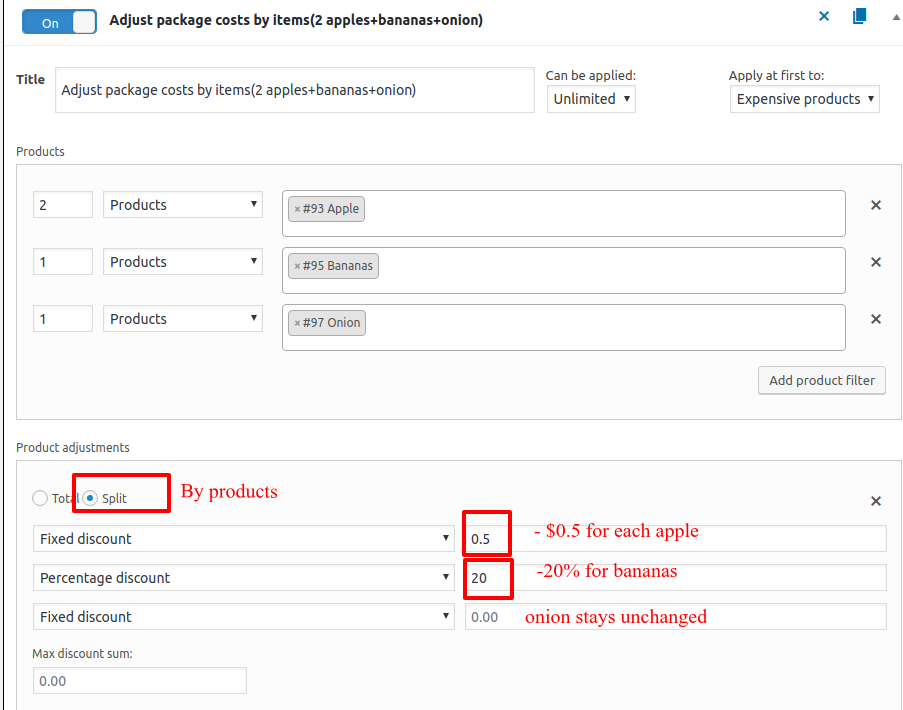 Product discount
This discount can be applied to whole bundle or to each position separately (screenshot above)
Role discounts
This simple discount (it's not condition!!!) can be combined with bulk discounts.
Bulk discounts
This section supports bulk and tier mode (need more details?)
Range for qty can be calculated based on different items.
Free products
It's assigned to each matched bundle (or product if you define one line in Product Filters).
Special mode allows to add items based on subtotal amount.
These items added to cart automatically.
If you want to setup rule "Buy A + select another free product " – you should create product filter A+B , use mode "Split" and set zero price for 2nd position (screenshot above)
Cart adjustments
It's a mix of extra discounts, fees and shipping options.
This section ignores bundles/products configured in "Product filters".